Imagine a place where neurodiverse adults live alongside neurotypical neighbors and enjoy the freedom of having their own place, while being an active part of a supportive community … a place where the convenience of city living is made more accessible with creative and intentional design.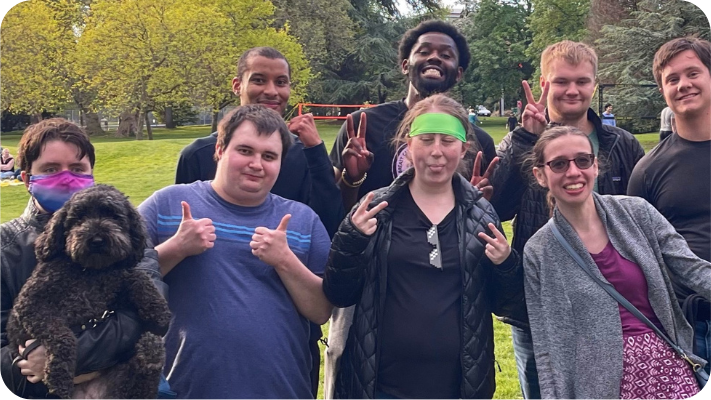 (photo courtesy of Thrive Seattle)
"We call it 'independence with community,'" explains Christy Bateman, Program Director at Thrive Seattle. "We created a uniquely different type of living arrangement for neurodiverse adults where they can choose and rent their own apartment as well as have a safety blanket of support as they learn to live on their own."
The need for innovative housing solutions for neurodiverse adults is pressing, explains Ryan Wecker, Lead Residential Services coordinator at Thrive. "Rents are on the rise and affordable apartments are very competitive. When you factor in the barriers that the neurodiverse community experiences, the housing challenge is massive … if not insurmountable.
"It's hard enough to compete for housing in this area when your income, credit, and job status are the determining factors," Wecker continues. "Now think how challenging it is when you're struggling with executive functioning or anxiety issues. The apartment will be gone before you'll ever even get a phone call. These are all factors we considered while developing the Thrive program. The Thrive partnership has developed an accessible and supportive system to help our clients reach their goals within the community."
A new idea in neurodiverse housing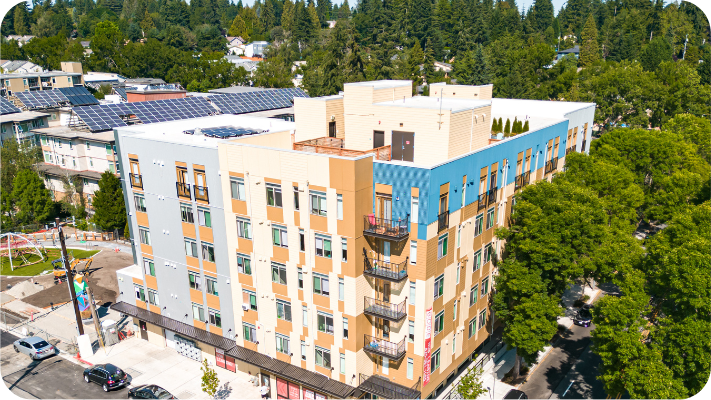 Convenient to shopping, recreation and transportation, Thrive Lake City combines individual apartments with community gathering spaces. (photo courtesy of Bode)
Partners4Housing's Pam Blanton and Max Wells recently met Anna Deliganis of Bode, the real estate development company working with Thrive, to tour the Lake City space. They liked what they saw.
"It's a beautiful building with lots of common spaces to gather. The rooftop space really stood out to me; what a delightful place to BBQ with friends and enjoy the view," said Blanton after her tour.
The space itself encourages residents to spend time together. "There's a full kitchen on each floor and many community spaces to encourage residents to get outside their apartments and mingle," Deliganis explained.
Each microapartment has its own kitchenette, private bathroom, and in-unit washer/dryer. Various sizes and layouts are available. On the ground floor, there are common spaces including a large flat screen TV for movies and gaming and an exercise room available to all residents. It's within walking distance to shopping, grocery stores and local transit, with easy access to several college campuses.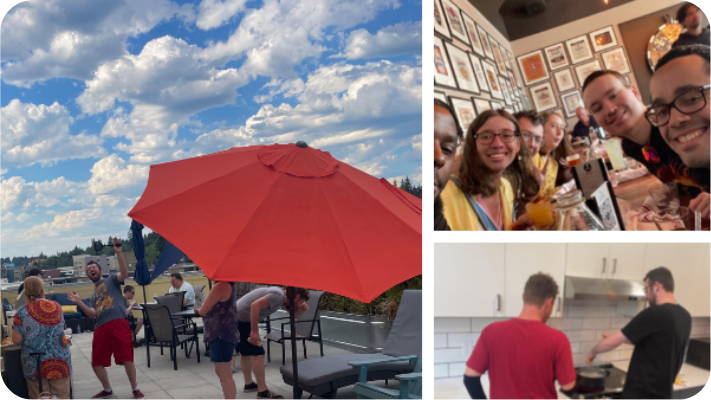 Thrive residents enjoy sharing social time both inside the building and in public. (photo courtesy of Thrive Seattle)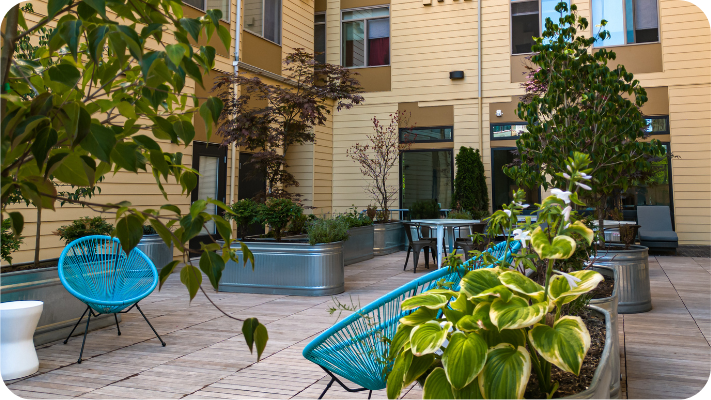 The apartments are designed for convenience and aesthetics (below), while common areas (above) encourage a sense of community among residents. (photos courtesy of Bode)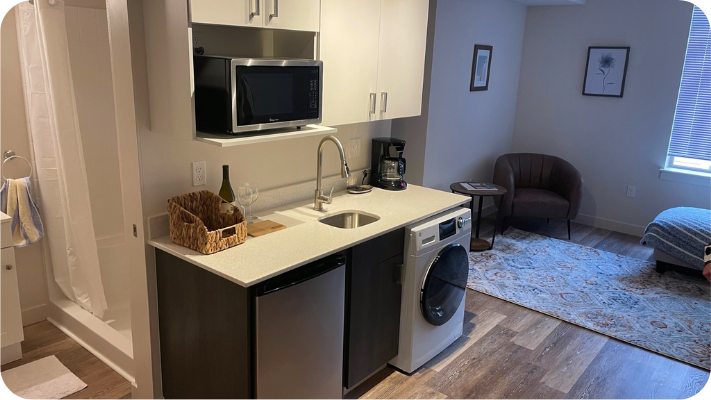 More than independence … that's what helps residents thrive
What makes Thrive Seattle so different is the way it seamlessly combines independent apartment living with a complement of support from the residential advisor team and the peer community.
"The building itself is great; it's modern and well designed and a beautiful place to live," Bateman explains. "Combine that with our active support structure and this community really works."
Bateman, who has worked with students on the autism spectrum for more than 20 years, is also on the staff of Enigma ASD Services, a transition support network for adults on the autism spectrum and an important part of the Thrive experience. This is a place where adults can learn to be on their own as they transition to a more independent life.
Is Thrive right for my Loved One?
The idea is resonating. Currently there are 17 program residents at Thrive Lake City, living in community with neurotypical neighbors in a building with 165 units. Plans are underway for a new location in West Seattle, opening early 2023.
While there is no "typical" Thrive resident, applicants must be over the age of 18 and able to safely meet their own personal needs, prepare all meals, navigate the local transit system (or drive), and be motivated to live on their own. They must also be either employed, attending post-secondary education, or actively volunteering and want to be involved in an interactive community.
Thrive Seattle is a collaboration between Bateman and Ryan Wecker from Enigma ASD; Anna Deliganis from Bode; and Ben Wahl of Ryther, a Seattle organization providing therapeutic services to young people. For more information, please visit thriveseattleliving.com.