"How long does it really take to create a housing solution for my Loved One?"
That is a huge question for most of the families we work with. And it's a great question because it demonstrates they are approaching the challenge of creating a new shared living solution — or any independent housing solution — realistically.
So, how long does it take to create a shared living solution?
Typically, it can take two to five years or more to create a resilient, well-functioning shared living solution for your Loved One. Our best advice? Start early!
To help families visualize the full scope of the process, we've created a Shared Living Development timeline. We've been using this during our webinars to help families see how all the moving parts eventually come together.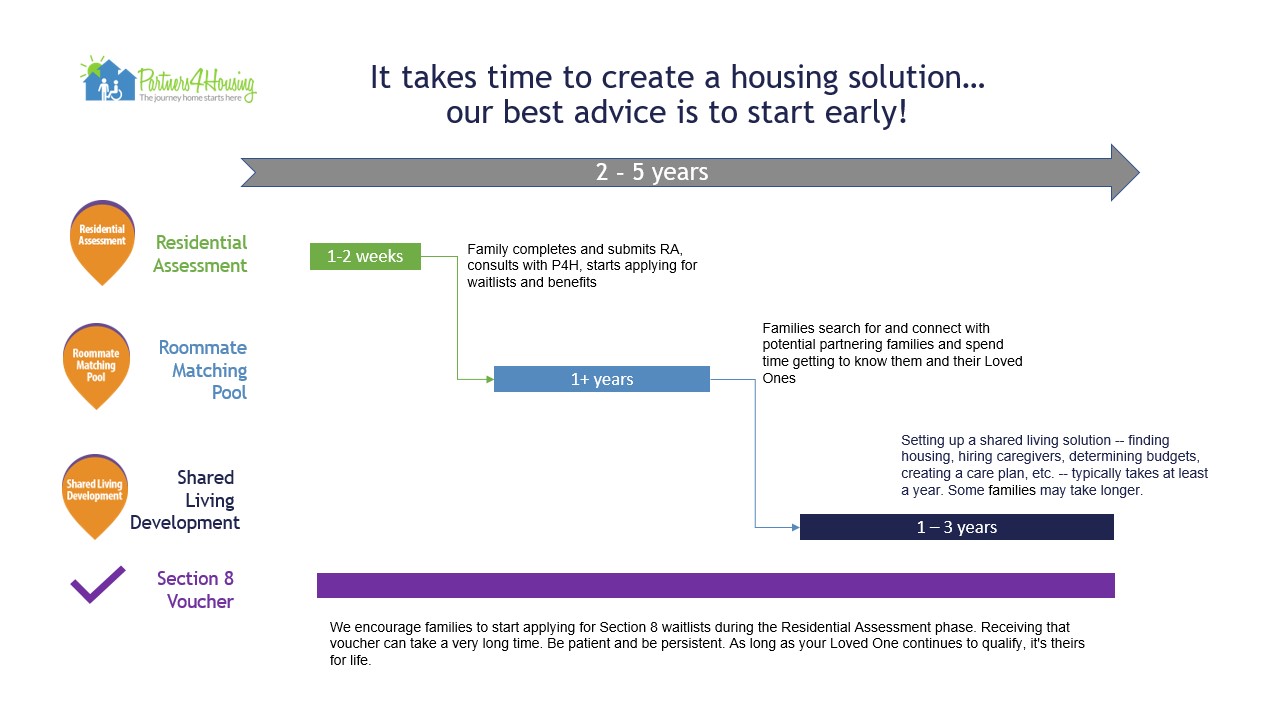 The steps you'll take toward a shared home for your Loved One
The first step is the Residential Assessment (RA). This is when families complete their questionnaire, and consult with one of our Solutions Coordinators, to explore their housing vision and maximize their Loved One's benefits, including applying for Section 8 waitlists. Next, eligible families are invited into the secure Roommate Matching Pool, where they complete a profile for their Loved One and connect with potential partner families. They'll spend time during this phase getting to know other families in the pool, then decide if they want to move forward together. It takes time to get to know the other family to be sure you share vision and values. It's important not to rush this step; the relationship you and your Loved One has with the partner families and roommate is such an important part of creating a successful shared home.
Once families decide to move forward together and engage our services, we begin working on the Shared Living Development process – guiding families through the process of securing housing, hiring caregivers, developing budgets and care plans, etc. This typically takes a year or more, and some families may take longer.
As you consider your Loved One's future housing needs, please approach it realistically. It is certainly possible to create a sound, resilient housing solution – we've helped hundreds of families do just that. Just go into this knowing it will take time and patience. Start early, be realistic, and keep the end in mind — a happy, fulfilled life for your Loved One, and peace of mind for you.