Some people see the work in front of them and focus on doing what they know. Others see a different kind of work, finding gaps in what's being done, and working to create brand new solutions.
For Allison Kleinman, LCSW, this second approach is the impetus behind her new company. Kleinman, who is on the Advisory Board at Partners4Housing, launched Future Centered Care in early 2022. Her mission? To partner with adults with disabilities and their families to build meaningful, supportive, and secure systems of care and community — for now, and into the future.
Through their team of Care Advocates, the company provides personalized concierge-style attention to oversee the physical, emotional, and social well-being of their clients.
Embracing the challenge to find new solutions
Kleinman credits P4H's founder Pam Blanton with being a mentor and role model in this space, ultimately inspiring her to take the leap to start her new company.
"Pam has been such an inspiration to me as an entrepreneur," Kleinman said. "She would say, 'You know, people keep asking for roommates and we have to figure out a way to do this,' and she went ahead and did it."
"I've seen similar huge gaps over and over during my almost 15 years in this field, and not any real, new solutions," Kleinman said. That was the impetus for Future Centered Care, to be a part of the solution to provide peace of mind for families. "Families need to know who will be there when the parents can't, to be a partner to the siblings and other people in that circle of support, and especially to be a partner to the adults with disabilities themselves."
The modern approach to matchmaking
Kleinman explained the case managers and care professionals who work with their clients are trained to think in terms of matches: Who's the best support professional for you; what's the right job, the right task and environment for you; who's the right roommate or what's the right community; and facilitating good matches in terms of friendship, dating and relationships.
"Some of my best memories are attending the weddings of adults I've worked with, watching them get married," Kleinman said. "Those moments of getting a job, finding a community where you belong, moving into your own home … there was a matchmaking process behind these moments that helped these people get to that place. Being able to play a role in any of that is such a gift."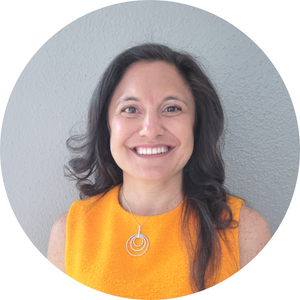 "I feel grateful and rich every day
to be able to do this work."
For Kleinman, this approach helps close a real gap for many adults with disabilities, whether they are in that challenging transition age of 18-21, or in their 20s, 30s, and 40s and beyond.
"We help our clients create a life where they aren't surrounded just by family and paid caregivers, but by people who choose to be in their lives," Kleinman explains. This person-centered approach helps adults build a true community at home, at work, and socially.
The bridge to help families let their Loved Ones grow
One of the crucial services Future Centered Care provides centers around staffing, a key element of an independent life.
"For many clients, we serve as recruiters, again, making those matches," Kleinman explained. "We help families create caregiver job descriptions, recruit for staff, screen candidates and do reference/background checks, and serve as a support to the staff once they are working with the families."
Finding the right balance between providing guidance to the staff while allowing them the freedom to create a personal connection with the adult can be tricky. For parents and families, it can also be hard to let go and learn to trust the caregiver.
"It can be difficult to train and trust the new staff members," Kleinman said, "We serve as a bridge between the staff and family and help the adult advocate for what they want and need."
A large part of the work Kleinman's team does centers on helping the family adjust as their adult becomes more independent. With this approach, the parents and other family members begin to step back and hopefully enjoy their relationship, without being the ones to orchestrate and manage all the different pieces of the person's life.
Kleinman imagines her work as being part of a community-building effort and envisions what life can be like when people don't see a person's disability first.
"Imagine I can belong to and be included in life as an adult, and my community doesn't have to just be with people with disabilities."
Kleinman learned her profession at the Marlene Meyerson Jewish Community Center in Manhattan, growing up in the field where everything was fundamentally centered around community.
"Everything we were doing was making sure people feel they belong. When I would train our interns and staff," she continued, "we would stress how important it is to check on the people we work with. For instance, if someone hasn't been to their group activity in a while, or leaves early, just ask the simple questions … We noticed you were not there; what's going on? Are you okay? Do you need anything? That's not something you're going to learn in school. That's about warmth and welcoming and including people."
So, what's the next big gap on Kleinman's radar? "We can't as a company do our work to its fullest potential unless we have more housing opportunities to enable adults with disabilities to live on their own," she noted. She's working on ways to appeal to more developers to include people with disabilities in the properties they're creating.
With a mission and drive like Allison Kleinman's, that vision seems like a real possibility.
A note to our readers: Future Centered Care will be launching a beautiful new website in January of 2023. Be sure to visit them, at www.futurecenteredcare.com.