"What will happen to my child when I can no longer care for them?"
It's a massive question, one faced by thousands of families who have Loved Ones with IDD, including Arizona mom Elizabeth.
"I wanted to find a place where I knew Philip would be secure, no matter what, since I won't be around forever," Elizabeth explained in a recent interview.
Philip, 39, has lived outside his mom's home since he was 21, starting with a group home. While the home provided the services he needed, he longed for more privacy and independence than that setting could provide. So, Elizabeth set up an independent living solution in a condo she owned close to her own home, about two and a half years ago. It looked like a good solution, and Philip initially enjoyed his new space and sense of freedom, especially his work as an usher at a neighborhood movie theater.
As Elizabeth explains, COVID-19 disrupted that situation.
"The pandemic was really difficult on Philip," she said. "He became so lonely because he couldn't work or socialize. He ended up spending a lot of time alone, or here at our home with me and my husband, Rob."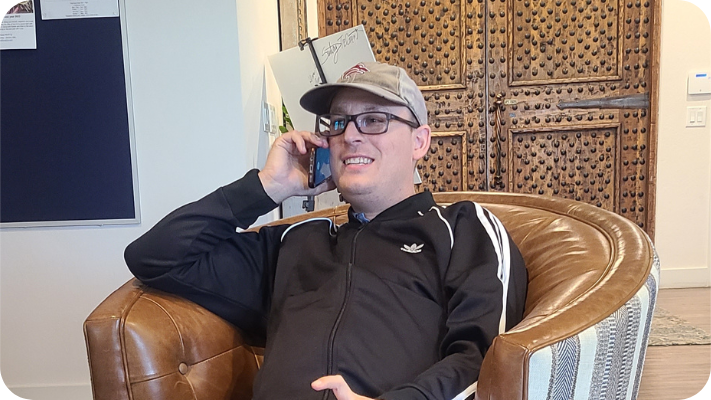 Philip looks right at home on his first day living at Luna Azul. (Photo courtesy of Philip's family.)
It was during the lockdowns that they first visited an open house at Luna Azul, a first-of-its-kind residential community in North Phoenix. At Luna Azul, families purchase cottage-style homes for their Loved One to live in, creating a sense of permanence that's often missing in other housing solutions.
While private ownership is an important component of Luna Azul, the community fosters connections and socializing by design.
"In most master-planned developments and condo neighborhoods, life is focused inside the home," notes Mark Roth, founder of Luna Azul, who lives there with his daughter. "We built Luna Azul as a place where residents can live permanently, enjoy a sense of security, and make lasting friendships."
Luna Azul's pocket neighborhood design offers a collective sense of ownership that extends beyond the front yard gates and into the shared commons.
"The pocket neighborhood design promotes meaningful relationships beyond family and housemates," Roth continues. "The community's smaller scale and front porch positioning encourages our residents to get to know their neighbors."
Beautifully landscaped grounds, pool, and outdoor gathering spaces continue the sense of connection, and the central clubhouse offers daily (voluntary) events for residents.
With a secure entrance, perimeter fence, 24-hour on-site staffing, and a traffic-free campus, Elizabeth felt the community offered a safe living environment … and that gave her peace of mind.
"The fact that someone is always there, 24 hours a day, is very reassuring," says Elizabeth. "I rest easy knowing there's always a backup person. One of the staff is an RN, and she lives right there with her special needs daughter."
So how is Philip doing in his new home? "Surprisingly well! He likes his routine and the privacy of having his own place, plus the social aspect of the community," Elizabeth explains. "He felt right at home from the first day, and he's adapted really well to the community and his new surroundings."
"What really sold us on this community were the staff like Jon Krueger, the Luna Azul Director. He's a former Marine with a huge heart. He assured us that there is always another set of eyes and ears on the residents, so I know Philip is being looked after."
While Elizabeth considers herself knowledgeable about the benefits system, she was happy to meet Pam at a Luna Azul open house.
"Pam has a wealth of information and experience," Elizabeth continues. "She helped me navigate the transition and transfer benefits and housing vouchers; it was amazing how she was able to help us get what Philip needs. And she is such a kind woman, someone who can relate to our family's situation. Having a conversation with her over a cup of coffee is such a pleasure."
Overall, Elizabeth, Rob, and Philip are happy with their decision to buy a home in Luna Azul. And Philip is adjusting beautifully, having found the right mix of privacy, safety, and community.
"My heart is feeling a little lighter now. I'm 68 years old and I'm tired," Elizabeth says with a laugh. "Finally, I feel we have found a place that will work for the long term…and I have some much-needed balance back in my life."
A note from Partners4Housing: We help families learn about innovations in housing, technology, and ideas that might enable their Loved Ones to live a more independent life. We realize every family's needs are different, and we don't endorse any products or services as the right solutions for everyone. We do encourage you to explore possible options like Luna Azul to see if this might meet your Loved One's needs.