One does not play the piano with one's fingers: one plays the piano with one's mind.
This quote from Canadian classical pianist Glenn Gould might ring true for one Colorado dad, who heard his then 10-year-old son playing the piano as if he'd been practicing for years.
"We have a small keyboard downstairs, and I heard him play something," said Jude Kofie's father, Isaiah, according to a story from ABC affiliate Denver7. "So I grabbed my phone, went down there, and was like, Jude, play that again.'"
Jude, who has autism, has the uncanny ability to listen to a piece of music once and play it immediately. And he does more than just play; he expresses his emotions so fluently through the keyboard that his energy is infectious.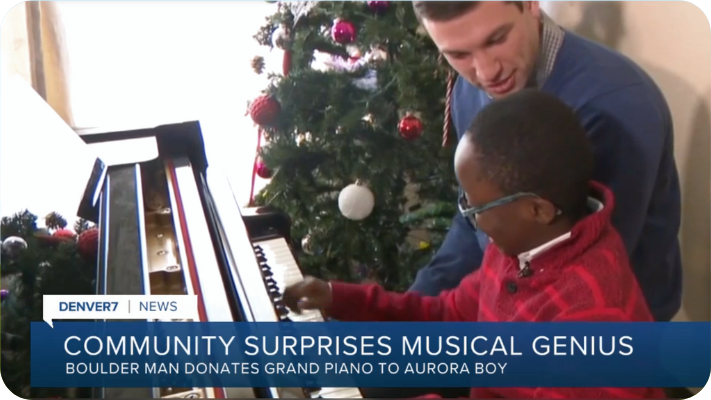 That energy caught the ear and eye of Boulder County resident Bill Magnusson after the Denver7 video of Jude playing went viral.
Magnusson, a professional piano tuner technician, knew there was something special about Jude. He also decided he would help this musical marvel make the most of his gift.
"My first reaction was, this kid is Mozart level," he said in a follow-up piece to the original Denver7 story. He was driven to help launch Jude's musical journey, using money he inherited from his father to buy the family a grand piano. He also connected Jude to a piano teacher who has become a real part of the family.
"The ripple effects over the next 70 or 80 years are incalculable," Magnusson said. "It's not just for him. It's for all the people he's going to touch."
And it looks like Jude's music is going to bring joy to millions. His official YouTube channel has more than 16,000 subscribers, he is the official pianist at his church, and he appeared on the Kelly Clarkson show early this year.
Calling his talent "a gift from God," Jude and his family are grateful for all the support they've received. Perhaps most importantly, they are grateful for Jude's brilliant musical mind and his ability to use it to say so very much.